Key West Tours
1 Browse Our Tours!
We have the largest selection of activities in Key West, Florida. Every tour has clear descriptions, photos, comments, & user ratings!
2
Book Your Tours!
Our user-friendly reservations system makes booking your excursions a snap. Or call one our Key West tour specialist to make your reservation.
3
Enjoy Your Trip !
Planning a vacation is stressfull enough. Just follow our three simple steps and we'll make booking your activities a breeze!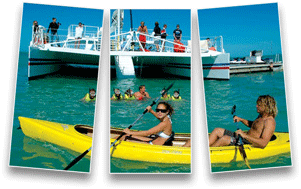 For such a small island, there is certainly no shortage of things to do, see, and experience in Key West! In addition to the snorkeling, diving, fishing, and other outdoor adventures that you can have, there are a number of museums, attractions, and events in Key West that will definitely keep you busy, and maybe even a little worried that you might be missing something! Here are just a few examples of the interesting and fun things to do while in Key West!
Key West Travel Tips

Overview
When traveling to any destination, there are certain things that you should know in order to make your visit as stress-free and enjoyable as possible. Here is some general information about traveling to Key West, Florida. Read More
Key West Accommodations Info

Overview
Key West and the neighboring islands offer a staggering variety of lodging options for visitors to the area. There are bed & breakfasts, smaller hotels, luxury resorts, conventions centers, and even all-inclusive resorts. There is something for every budget and for every desire. Read More
Popular Tours in Key West

Check our some of Key Wests' most popular tour categories below. Just click on the images to go directly to the list of excursions available to you. But don't forget to check out all of our exciting tours. You never know what you might be missing!